The Sugarplum Elves bring vim, vigor, zip, zing and just the right amount of WHEEEEEE! to most any occasion.

We are a song-and-dance variety act that specializes in singing telegrams and seasonal entertainment. Elves have also been known to add flair to birthday bashes, bicycle races, bat mitzvahs, art openings, go-go dance parties, and there was that one time that we provided some PG-rated entertainment for Santa's best friend's bachelor party. If there's fun to be had, we'll be there!

Does your event need elfertainment? Contact our booking elves for more information:

San Francisco
Honey Elf -
SFSugarplum@gmail.com

Seattle
Sprinkles Elf - 831 252 8490,
sprinkles@sugarplumelves.com

Portland
SugarplumPortland@gmail.com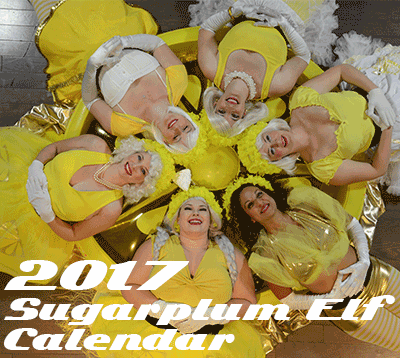 Elf Calendars! Yay!
Limited supply but unlimited demand! What to do? Order early, order often! Shipping is included in the price. Orders will ship in November.